The hiking trails on Land Trust and Town-owned open space are a wonderful resource for enjoying the outdoors in Grafton. Here are some answers to questions on various topics that we have received in the past:
Trail Maps and Conditions
Maps for hikers, mountain bikers, and equestrians are available in both online and printable forms. Click on this map to see the maps page: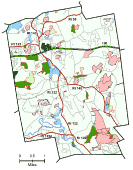 Personal Safety
Humans: there have been zero reported incidents or safety issues with humans. Even so, common sense applies whenever you walk somewhere alone.
Pet dogs: about once a month, someone reports that an owner let their dog off leash and then their dog runs around excited, which can be frightening for people who are afraid of dogs. The Land Trust policy is that dogs must be under control at all times - use a leash if you cannot otherwise guarantee control of your dog.
Coyotes: a few times per year someone reports seeing a coyote, usually in the evening. Here is a sample website with tips for handling coyote encounters: Coyote Smarts
Ticks: from March through November (and even in the winter if there is a warm week), you are likely to find ticks in the forests. In Massachusetts, a significant percentage of the ticks carry Lyme disease and a few other infectious microbes - avoid infection by using chemical repellents and tick-resistant clothing. More info at the U.S. CDC Tick Website
Ice: stay off of lakes and streams when there is ice.