Trail Description
The trail head is located at the end of the Nantucket Place cul-de-sac in the Mazza Farms subdivision. From there proceed along the access corridor marked by a pair of corner fences and identified by a Grafton Conservation Commission sign. The trail heads north over GCC property (with a CR to the GLT) to the eastern shore of the lake, then north along the lake shore until it reaches the Fletcher Reserve.
When visiting these parcels, please respect the posted regulations.
No motorized vehicles are allowed on Grafton Land Trust Properties or Conservation Restrictions!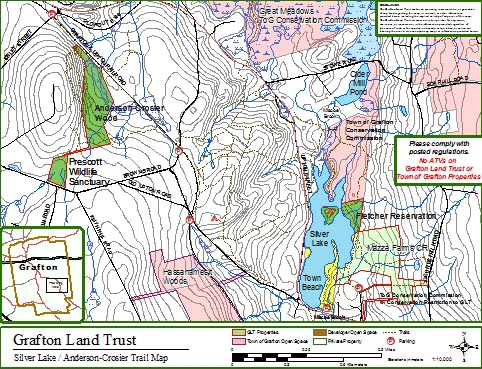 Printing instructions
The maps print on letter-size paper. Print the trail maps using the Adobe
Acrobat plug-in print button (on the lowest tool bar on the top border of the
browser window). Choose Page Scaling: Fit to Printer Margins and check
Auto-Rotate and Center.